---
Table of Contents
Lesson One~ Your Door: The Unknown
Lesson Two~ Leah's Door: Rejection
Lesson Three~ Moses' Door: Attitude
Lesson Four~ David's Door: Insurmountable Challenges
Lesson Five~ Elijah's Door: Fear of Social Pressure
Lesson Six~ Daniel's Door: Values & Beliefs
Lesson Seven~ Peter's Door: Waves of Doubt
Lesson Eight~ Paul's Door: Discouragement
Lesson Nine~ Deborah's Door: Oppression
Lesson Ten~ Jesus Christ: Door Buster
---
Chapter 1
INTRODUCTION
Your Door: The Unknown


Never be afraid to trust an unknown future to a known God.

Corrie Ten Boom

Psalm 32:8 "I will instruct you and teach you in the way you should go; I will counsel you with My eye upon you."


Doors are a funny thing. They keep us in, they keep us out. Sometimes we find that concept frustrating, and sometimes we find that very same concept comforting. But often in life, whatever is on the other side of the door, is where we know we should be.
We find ourselves walking up to that door, turning the knob and pushing our way through to the next place. Sometimes we'd like to push gently, and sometimes the door is so strong that we know we must bust our way through the doorway and take the resolute step into the next place in time and life.
The next place is always filled with one certainty … the unknown. You will choose to bust through the stuck door and step over the threshold, but it always means you're in a different room, a different place, and different surroundings. With those surroundings comes the inevitable … change.
But how do we face the doors in life and not run from the unknown? How do we push past the fear and have faith to bust through those doors that God is leading us to go through?
In Scripture we find many instances throughout history where someone faced a door that needed to be pushed hard, opened and walked through. Because doors can keep us in or keep us out, there were times when those doors of impossibilities and insurmountable challenges gave someone the need to bust through to the other side.
***(skip ahead)
In the Gospel of Luke, there is a story of a selfish sinner named Zacchaeus. Zacchaeus was determined to bust through a door that had huge obstacles set in front of it. An everyday-ordinary. A scoundrel. Disliked and disowned. Yet the Savior is calling him to a door.
Scripture tells us Zacchaeus was "a son of Abraham," which meant he was a true Jew, from the lineage of Abraham himself. Jesus knew this about him, and we're reminded what the Father God calls Himself in Exodus 3:6 to Moses, "I am the God of thy father, the God of Abraham, the God of Isaac, and the God of Jacob …"
Look Up: Genesis 22:17a
"I will surely bless you (Abraham) and make your descendants as numerous as the stars in the sky and as the sand on the seashore."
Jesus was traveling to Jerusalem and came to the town of Jericho, not quite twenty miles from Jerusalem. Jericho was a strategic crossroads for those in ancient Palestine. Located about forty-two miles from the Jordan River, the city was one of the main paths across the Judean desert. The city of Jericho was known for its crops of fruits, vegetables and balsam. The region was prosperous at the time this story took place.
In the Jewish tradition, they abhorred tax collectors and scripture tells us that Zacchaeus' served as a chief tax collector who had other officers serving underneath him.
Look Up: Luke 19:2
" A man was there by the name of Zacchaeus; he was a chief tax collector and was wealthy."
Unlike the meaning of Zacchaeus' name, pure or innocent, this tax collector held neither of those attributes. Tax collectors were typically greedy and disliked by the Jews because they collaborated with the Roman government to charge the people with excessive taxes.
The tax collectors would gather the tax money for the government, charging extra, and would skim off the top and pocket the extra for themselves. Zacchaeus was no different.
Archaeologist digs have uncovered that the city of Jericho is the location where King Herod the Great built many impressive buildings at a great cost to the public. This would probably demonstrate to us what kind of a city it was, where taxes were high, and greed was rampant.
***(skip ahead)
Let's look at Zacchaeus using those five helpful steps:
STEP 1: What Does Scripture Say? Zacchaeus is doing anything he can to get to see Christ.
STEP 2: What are the Facts? He knows he is a sinner and a cheat, and he is unpopular with the crowd. He is too short to see Jesus over them.
STEP 3: What is my emotional state? Overwhelmed, but he's determined to bust through the door of opportunity to face the unknown.
STEP 4: What is my motivation? To see Jesus, the One whom others have said is the true awaited Messiah.
STEP 5: What Are My Trusted Friends and Family Saying? Without reading about any specific friends, we know the crowd is questioning why Jesus would ever go to this sinner's home.
God is always about creating opportunities for growth. When Jesus gave Zacchaeus a chance, it propelled him into repentance and a changed life. That's the unknown behind the door. Great things for Zacchaeus.
The doors in life affect us. The doors in life affect others. Busting down doors can change our lives and the lives of others. Jesus Christ is truly the only One who can open and shut doors, but if He has determined that He wants to offer us an opportunity, it won't matter if there are obstacles. Jesus will make sure that He is there with a strong shoulder and the right key to help us push past and get through.
Look Up: Revelation 3:7
"These are the words of Him who is holy and true, who holds the key of David. What He opens no one can shut, and what He shuts no one can open."
I have found in this life that every door that has been placed before me was a faith- builder, a mind-stretcher, and a life-changer. That's how your door can be if you choose Christ, push a little bit and determine that you need to bust through whatever it is that's blocking it. No fear of the unknown because God is with you.
We are never alone. God helps us to face the doors. And He'll provide the courage and the knowledge to open them, break them down, and bust through them. And when we seek Him and obey Him, he'll come through with blessings untold.
My corridor was abuse. My door was blocked with obstacles of fear. My unknown was light, life and freedom.
Get busting down your own doors … freedom's calling you.
Questions:
Have you ever faced a door of opportunity and felt afraid to walk through it because of the unknowns? If so, did you push past your fears or did you walk away?
Have you ever felt obstacles in the way of your opportunities and become discouraged by them? How did you respond to those obstacles? Were they self-created or real?
Right now, God is working in your life to help you overcome fear and doubt. What emotions are you struggling with as you read this chapter? How will you move forward and bust open the door of opportunity?

Look Up:

Songs: 
Hymn ~ "Great Is Thy Faithfulness" (Thomas Obadiah Chisholm)
Contemporary ~ "Good, Good Father" (Chris Tomlin)



Closing Prayer:
Dear Jesus,
You call me to great opportunities.
Help me to trust You to remove obstacles and have faith that all the unknowns will be revealed in Your perfect timing.
Help me be ready to open doors.
In Jesus' Name, Amen


---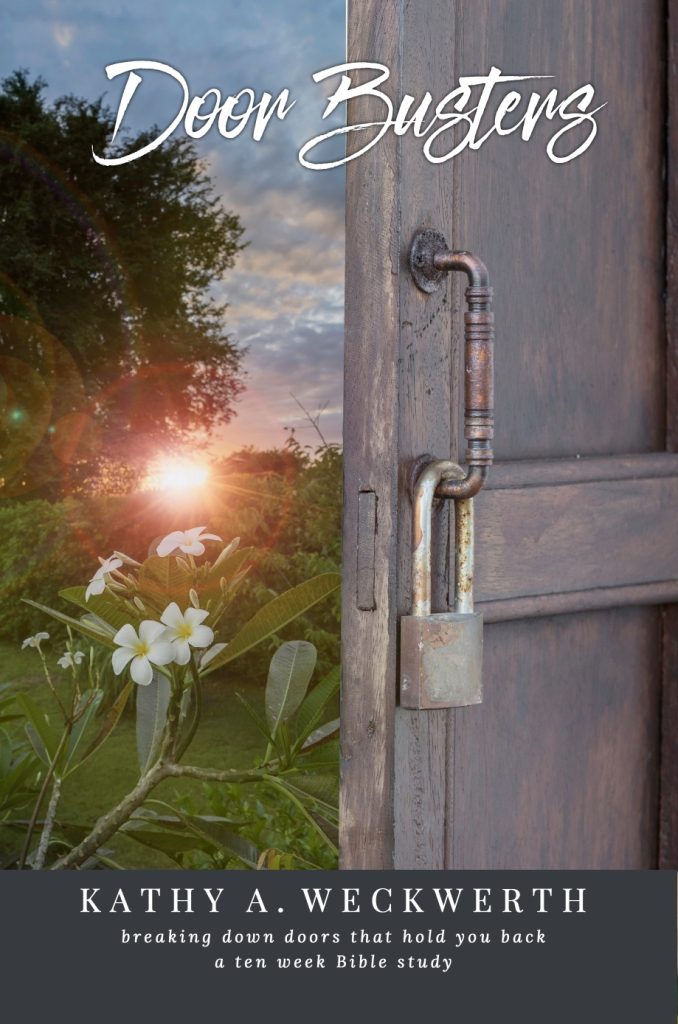 $12.99 Paperback 
$9.99 Discounted rate for quantities of 10 or more books