Kathy's 10-week Bible study from Matthew 5.
The Be.Attitudes is a 10 week Bible study of Jesus' beatitudes found in Matthew chapter 5.  When Jesus is teaching His disciples and followers on the mountainside that day, He delivers the attitudes of the heart that every Christ-follower should embrace and apply into their daily walk.
Using personal real-life stories, along with Biblical truths, Kathy will help you to discover the values behind each of the beatitudes, develop a deeper trust in Jesus, and implement heart-attitudes that can make the difference between a problematic life, or one that is blessed.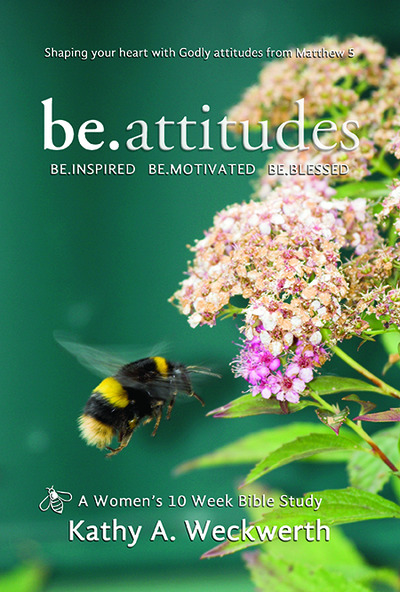 Paperback, 135 Pages
$12.99
($9.99 Discounted rate for quantities of 10 or more books)
Table of Contents
Introduction~ Having Christ-like Attitudes in Your Everyday Life
Blessed Are the Poor in Spirit
Blessed Are Those Who Mourn
Blessed Are the Meek
Blessed Are Those Who Hunger and Thirst for Righteousness
Blessed Are the Merciful
Blessed Are the Pure in Heart
Blessed Are the Peacemakers
Blessed are Those Who Are Persecuted
Conclusion~ Implementing Godly Attitudes
Sample:
Introduction 
 " A Christian is never in a state of completion but always in the process of becoming."
                                                                             … Martin Luther 
Be. Focused     Be. Encouraged      Be. Your Best
I ran to pick up the phone and I answered with a breathless, "Hello?"  My oldest daughter was in tears.
"Mom, I can't take it anymore!" she exclaimed exasperated.
"What's happening?"  I asked.
"It's this neighborhood.  No one understands what it's like to live here.  I'm a mom with two little boys, two rat terrier dogs, three lizards, two cats, a bunch of baby robins in a birds' nest above the door, and a husband with a lot of golf clubs.  Everyone else who lives here is older, single and doesn't even have a goldfish."
"I know, I know." I tried to console her.
"Now, one of the neighbors has called to report me to the townhouse association, and the association manager is telling me that along with every tricycle, bicycle, box of pampers, bag of cat chow, and  my gas grill, I will now have to store my car and my garbage cans inside my one car garage.  I can't take it!  I hate this place. These people don't get it.  I hate my neighborhood." She finished with a sob and said, "Why would someone do that?  I am so mad.  I am so angry.  I know I have a bad attitude, but I refuse to ever speak to any of them again.  I don't want to live in this neighborhood."
Look up Matthew 5:1-2
"When Jesus saw his ministry drawing huge crowds, he climbed a hillside. Those who were apprenticed to him, the committed, climbed with him. Arriving at a quiet place, he sat down and taught his climbing companions."
Jesus begins his sermon, known as The Sermon on the Mount, and starts with what we  know as the beatitudes by saying "blessed."  A God filled with love for mankind, sends His Son for us, to dwell and live here on earth, giving us the directions, the steps, and the pieces to make our lives better by saying "live like this."   He gives us these attitudes to soak up and embrace, so that we can know the kind of everyday life we can live, our very best version of who we are meant to be. A promise that begins with "Blessed."