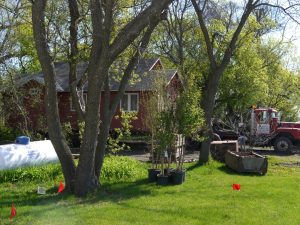 Five years ago, a woman in my hometown said to my friend, "How come she gets to have a church?" Farmer Dean and I were slightly miffed. Not because we thought it had merit, but because we thought … why doesn't she get to have a church!
For those of us who are dreamers and visionaries, purchasing a 1900's church that would be moved 20 miles (instead of being torn down) and using it for ministry headquarters, seemed like a really great plan.
Here's the scoop … it was God's plan.
So for the past five years, the Farmer and I have been working hard to restore the building and have had many people come alongside us with encouragement and financial support to make things happen.
Each month we've hosted events. Every year we've delivered conferences, Good Friday and Christmas Eve services, a big fund-raiser, and weekly Bible studies. We've also hosted visitors from near and far, wanting to see a glimpse of their past, or their parents/grandparents' past.
Life has been good in the grove.
But … something was missing.
Two months ago, Farmer Dean and I were taking a much-needed day of rest and we headed to a neighboring city for good food and a fun movie.
Out of the corner of my eye, I saw it. On the side of the road for sale … a little red cabin. It was sweet. It was little. It was old.
We stopped to look it over. I was thinking to use it as a little cabin for resting and personal retreats that would sit behind the church in the grove. The Farmer was thinking … chicken coop.
It was slightly dilapidated, so we moved on to look at the other cabins that were perched high up on a hill, about six miles away on Lake Koronis.
Once know as Stone Gate Lodge, we drove through the big red fence and saw them there … neatly lined up one after another. Little red cabins as far as the eye could see.
Thirteen or fourteen cabins were there, along with a little store, a couple of big houses and lots of beautiful singing birds amidst lovely trees that lined the hill.
Progress was moving in. Pushing past the old, breaking down the branches, cutting down the trees, and plowing over the old buildings was the new plan. Only a few of the cabins would be moved off to be sold. Progress was moving in her new plan … 14 single family homes.
We walked through the fog that day and felt discouraged as so many of the cabins needed much help. But one thing was for sure, the last one that we stepped into was the one we knew needed to come and live at the grove with us!
Three bedrooms, a little restoration (enough to make it nice but not enough to distract from yesteryears), and lovely windows set this cabin apart from the rest of them.
We purchased the cabin and set up everything for the move. It would take six hours for the cabin to arrive and they would move it at night.
Naming the cabin was the next challenge. You see Farmer Dean had already believed that God had a great plan for the grove, one that was bigger than the little church. He and my grandson had already started clearing old shrubs and dead trees so that there was a roomy open spot in the grove. Big enough for a cabin. But he didn't have a clue what would go in there.
I, on the other hand, kept hearing God saying that people needed to meet with Him. People needed rest. People needed to have a place to go and be quiet. But what did it look like? Ah yes, a little red cabin from 1905.
The cabin resort had been in that spot for 112 years. The church had been in its spot for 112 years. There was something so right … something so God-ordained about the whole thing.
But a name would be important as I was headed out in the following weeks for my Best Life conferences and needed to advertise for the cabin's use at the grove.
Dean and I headed to visit my mother for her birthday. As we drove the long trek we reviewed names. "Heavenly Haven," Dean suggested. Sounded like a funeral home. "Hallelujah Haven," he recommended. Sounded too churchy. One by one we suggested things that the other didn't like. And then I heard it. "Hadley." What was that? Never heard it before.
Hadley … I looked it up on my phone. It meant, "Field of heather."
"We don't grow heather," Dean said. "We grow corn and soybeans."
For weeks we discussed the name and for weeks I heard the Holy Spirit whisper, "Hadley."
The night came to order the brochures and a name was to be chosen. "Hadley it is," Dean said.
I said, "Wait! Let me look it up in Bible terms."
Hadlai was in II Chronicles. The story was that Hadlai's son was upset that the Israelites had fought a battle and plundered, and brought home the women and children, and they said that God would not be happy. Hadlai's son and his three friends provided food, shelter, and healing balm for the refugees who were coming in from the battle. They were provided for and then they were to be sent home.
Hadlai-Hadley meant … REST OF GOD or RESTING IN God.
Just what we wanted! Rest, shelter, comfort, and healing for those who would come and stay in the grove.
We are refurbishing a bit, restoring a little, and loving God for His miraculous work that on a day of rest, when we would drive through rain and fog to discover something from the past that needed to come home with us … to the grove.
To God be the glory.