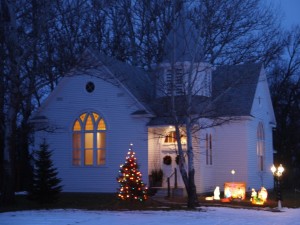 That Christmas Feeling, By Kathy A. Weckwerth
It's that time of year when people are looking for the inevitable Christmas trappings that help them to feel like they are holding onto special Christmas feelings and emotions … the same ones they experienced as a child.
As I baked Christmas sugar cookies for the get-together at our little church in the grove, I was excited for the season of baking.  And then I overbrowned a pan and ran out of blue sprinkles for the snowmen.  I couldn't find that feeling in baking.
Next, I put my Carpenter's Christmas CD on, while Jenessa and I decorated the tree.  With my granddaughter Cordelia taking all of the ornaments out and carrying them around, pulling them apart and anxiously trying to hang them up herself.   I couldn't find that feeling in decorating.
Farmer Dean raced outside to the church to set up the nativity set and deck the trees with lights and holly.  It was beautiful.  The scene was well lit, the church looked sweet, but I couldn't find that feeling in seeing the outside lights.
While I did the dishes, I turned on the tv set in time to see "It's a Wonderful Life" airing.  I washed pots and pans while listening to George Bailey moping about and wishing he never existed.  By the time I got to Mr. Potter being mean and keeping the bank's funds, I felt a sinking feeling.  I couldn't find that feeling in Christmas specials.
On Monday, I traveled south to Iowa.  What was I thinking!  I got caught in a blizzard just inside the Iowa border.  As I clutched the steering wheel, I listened to every quiet piano playing Christmas carol known to man … along with a few tunes from The Partridge Family, The Grinch, and She Daisy, but in the music, I couldn't find that feeling in Christmas CDs.
As I arrived in my hometown, I pulled in the driveway, looked at the town's lights, made a walk down memory lane by visiting with old friends and seeing old sites, but nothing could give me that feeling … you know the one … that sense that all is right with the world and Christmas has arrived without any efforts of your own.
On my way home, I made several stops at stores while I picked up little things for the family and watched the hustle and bustle of people picking out Christmas trees, purchasing turkeys, and buying Christmas cards.  Nothing did it for me.  Nothing.  I could not, I would not create the feeling that I embraced as a child.
Until something happened.  On Friday night, I pulled in my own driveway and made plans for getting the church set for the Christmas carol and cookie night on Saturday.  When Saturday night arrived at the little church, there was excitement in the air as I greeted each and every visitor through the church doors.
I had made Christmas punch and observed the frothy red sherbet floating on top of the bowl. A variety of cookies were displayed on big trays, while people filed in chatting, laughing, and hugging one another.  With the small group of about 30, I began to welcome them, commenting on cookie plates, Christmas sweaters, as they commented on the little church and how dressed up it was for Christmas.
I sat down at the piano and started the night off with a solo.  The words began to melt like winter snow on a warm spring day … right through my soul.  "I need a silent night, a holy night, to hear an angel voice through the chaos and the noise."  And then I prayed.
But what happened, you're asking!  I looked out and I listened.  I just stopped and listened to the voices singing song after song … carol after carol.  "Hark the herald angels sing, glory to the newborn King, " and " It came upon a midnight clear that glorious song of old …" and there it was.  Voices intermingled with good will, smiles, camaraderie,  and with the ending of each song, my granddaughter stood up, clapped and yelled "yeah!"
That feeling had arrived!  As many of my congregation shared Christmas memories, the feelings deepened as I allowed myself to remember the many good things of years gone by and all was well.  Not just in my heart and mind … but that Christmas spirit flooded my soul.
[callout]Look for it.  You'll find it.  Maybe not on tv, or in the mall … perhaps not in your car or in your kitchen … but you will find the Christmas spirit when you seek the Spirit Himself. [/callout]
Peace on earth … goodwill towards men.