Words Matter
By Kathy A. Weckwerth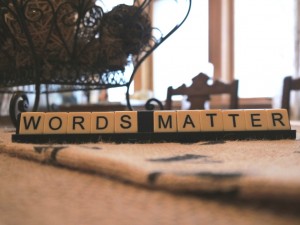 Psalm 141:3 (ESV)  Set a guard, O Lord, over my mouth;  keep watch over the door of my lips!
Over the past month, my women's Bible study have been working through a book about our words.  Each week I ask the women to join me in paying attention to what we are saying each and every day, not just to others, but to ourselves.   We nod, we smile, we encourage one another, and then we head out the doors of the little church into the real world.  It's not that easy!
The more that I started paying attention to what I was saying, the more I realized I say a lot of stupid things.  And the more stupid comments I made, the more I got mad at myself.  Where was this coming from?  Why was I continually saying things before I thought them through?  It was a habit … and a bad one at that.
So often in life we are told things about ourselves.  We are told that we are not a good student, or we will never make it on the basketball team, or we will never get that job, or we are just not good enough to work with those people.   We begin to believe what is spoken over us.
Sometimes we speak those kinds of untruths to ourselves.  We ruminate them over and over until we believe the negative lies that we hear in our heads, and then we follow through to the next step … we act on them!
Many times in my life I heard people say to me, "You can't do that."  People told me I couldn't become a worship director, I couldn't write books, I couldn't sing or play piano, and I recently had a good friend tell me that Dean and I couldn't run a business so our ministry wouldn't flourish.
With each one of those statements made over me (and sometimes they were made more than once by more than one person) I would get shaken.  But something always happened to me.  I began to speak the truths that I knew came from God through scripture.  God made me to have musical talents and gave me the desire to use them and become a worship director.  And I did!  I served for over twenty-five years as one.
God gave me the talents to write and over the past two years, I have written three books.  Dean has been running a business (farm) for over 30 years and I have learned from some of the most distinguished pastors about leading teams, drawing people in to Christ, delivering conferences, and teaching.  God has blessed our ministry and we are continuing to grow.
When we begin to believe the lies, that's when we cut ourselves (and God) short.  That's when we're not living our best life.
It's time to start watching what we're saying.  Are we negative?  Are we speaking negativity into our own lives and the lives of others?
[callout]It's time to start making up a list with scripture that will back up all of the things that we know God wants to do in us, with us, and through us!  Believe in bigger things and better things and watch your words.  They really do matter![/callout]