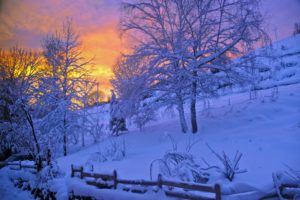 Today is dark and wintry. There is stillness in the air that has enveloped me and as I look out over the farm, the sun is slowly setting. A night like this always makes me remember a journey some thirty years ago. It was a cold, wintry night when all hope seemed lost.
That night, my father, mother and I had begun a week's vacation to Canada. Driving on slippery roads most of the day, white fluffy flakes piled up over the mountain tops. It was brisk and lovely that evening, as the stars spilled out a beautiful light over the countryside. I remember feeling a bit nervous as my father gripped the steering wheel tightly, while my mother sat still resting her head against the car seat.
Every so often, I could see Dad's forehead in the glimmer of the car lights. I knew he was concerned. It was strange how the fact that knowing he was at the wheel gave me an assuring comfort. But something in me still worried about the concerned look that clouded his face.
After what seemed like hours, my father's gentle hand reached back and touched mine as I was resting with eyes closed, head leaning against the backseat.
"Kathy, I need you to start praying," he said. I heard the gentle breathing of my mother and knew she was fast asleep.
"What is it, Dad?" I questioned.
"We've been driving for the past fourteen hours," he answered, "and there isn't one motel with a vacancy sign where we are now. I don't know what to do. It's close to midnight and I'm feeling exhausted. "
I started to feel his panic. I was wide awake now and I noticed that we continued to drive for miles without a town anywhere in sight. The sky was beautiful and clear, but there was no sign of human life … anywhere.
After another half hour went by, my father pulled to the side of the road and said, "Kathleen, you need to drive. I just can't go on."
I knew things were serious as my daddy didn't call me Kathleen unless the situation was dire. I got outside and moved into the driver's seat. I, like my father, was exhausted as well.
On top of my panic about the long stretches of no civilization, I added to my fretting the fact that I had only recently secured my driver's license. I had no idea how I'd fair driving on icy roads in the dark night. I breathed a silent prayer and buckled my seatbelt.
I frequently checked my rear view mirror to see if my father was asleep. I felt very alone in the darkness. Quietness completely surrounded me. But somehow, as I prayed, I looked out and saw a huge windmill gently spinning in the crisp wind.
The light from the moon struck the windmill so that it looked like a big strong comforting force. Round and round it went and as we approached it, I noticed that light was bouncing off of it. A small row of little cabins sat directly behind the windmill, as warm yellow light in the cold night spilled out across the snow.
My father spoke so clearly, I can still hear him as he said, "Honey, it's a place to stay. Pull in. Pull in." The sign that was warm and orange blinked "VACANCY." Over and over it glistened against the freshly fallen snow in the fields around it. I looked up to see beautiful tall mountain tops and sparkly white lights. My mother groggily opened her eyes and wondered where we were.
It was one hour from when I had taken over driving. One hour of begging God for a safe retreat. Uncomfortable, cold, exhausted, and uncertain of our future, we had one thing going … faith in God for where we would end up.
My father got out and grabbed the suitcases and said to me, "Perhaps this is the same way that Mary and Joseph felt that night when over and over they were told there was no room. Cold, tired, hungry, and scared. Why, tonight even made me feel uneasy and scared."
I couldn't believe he said it. My father said he was "scared." He had to be strong for us. But we had been in the dark, in the middle of nowhere, with no place to stay.
Scripture tells us in Luke 2:4-7, "So Joseph also went up from the town of Nazareth in Galilee to Judea, to Bethlehem the town of David, because he belonged to the house and line of David. He went there to register with Mary, who was pledged to be married to him and was expecting a child. While they were there, the time came for the baby to be born, and she gave birth to her firstborn, a son. She wrapped him in cloths and placed him in a manger, because there was no room for them in the inn."
The memory has stayed with me these past thirty nine years. And today, I am once again reminded of the thankfulness for a journey that ended with a place to rest.
This season, we remember the birth of Christ, the holiness of that event, and the presence of His salvation in our lives. Today, let there be a warm welcome sign that blinks "VACANCY" shining in our hearts for Him today. Let's make room for the Savior and allow Him to take His rightful home in our hearts.
Oh, come let us adore Him, Christ the Lord.