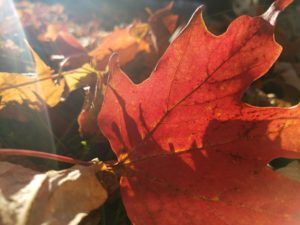 Thanksgiving is a day for friends and family.  We invite people to our homes, cook up huge amounts of food and look at the past year to recite our many blessings that God has bestowed upon us. As a little child, growing up in southwest Iowa, we invited my extended family and everyone would pour in the door in a fit of excitement.  The grandmas, my grandpa, aunts, uncles and cousins, and Thanksgiving was special.  But my father always prayed a prayer of thanks and we always told what we were thankful for.  But Daddy always reminded us at the end of our day, Thanksgiving was not just a day to be thankful … it was an attitude of the heart.
When we take time to focus on GOD … not just on what He's done for us, but on a Mighty, Powerful, Loving God, it makes our hearts thankful.
In ll Chronicles 20, we see that there is going to be an attack on King Jehoshaphat and the people of Judah and Jerusalem. In verse 14, we see that the spirit of the Lord came upon Jahaziel.
Do you know who this man Jahaziel was? According to 1 Chronicles, he was one of the Levites assigned to make music for the temple worship and had probably not been a prophet before this time. In verse 15 we learn what the Lord tells the king and his nation, through this singer, Jahaziel, "Listen,King Jehoshaphat and all who live in Judah and Jerusalem! This is what the Lord says to you: Do not be afraid or discouraged because of this vast army. For the battle is not yours, but God's." Verse 17 tells Jehoshaphat, "You will not have to fight this battle. Take up your positions; stand firm and see the deliverance the Lord will give you." Look at what these people are doing in verse 18, look how they are living a life full of worshiping the Almighty God, and within worship is our reverence and our gratitude.
"Jehoshaphat bowed with his face to the ground and all the people of Judah and Jerusalem fell down in worship before the Lord. Then some Levites from the Kohathites and Korahites stood up and praised the Lord, the God of Israel, with a very loud voice. Early in the morning, they left for the Desert of Tekoa. As they set out, Jehoshaphat stood and said, 'Listen to me, Judah and people of Jerusalem! Have faith in the Lord your God and you will be upheld; have faith in His prophets and you will be successful.'
After consulting the people, Jehoshaphat appointed men to sing to the Lord and to praise Him for the splendor of His holiness as they went out at the head of the army, saying: 'Give thanks to the Lord, for His love endures forever.'"
As they began to sing and praise, the Lord created ambushes against the men of Ammon and Moab and Mount Seir, who were invading Judah, and they were defeated.
I find it almost amusing that Jehoshaphat sends out the singers. Why amusing? As I've been working with musicians for over 25 years, I note specific things about them. They are emotional, caring, diligent,detailed, and yet sometimes spacey. They are supportive and love to cry.
I can honestly tell you that they are not much on athletics. They are not typically courageous, and they are not usually fighters. However, if God allowed Jehoshaphat to send out the bodybuilding youth pastors, or the church members who were at the gym all week, the glory wouldn't have been there. Within this story, a simplistic lesson is given.
Do you see it? The kind and caring singers went first. They are not powerful.  They are not muscular and athletic. No, they are emotional and worship-filled, they are God-fearing and thankful.
They are probably scared senseless within their awareness of their own humanness, but they are no doubt focused on the protection and power of their Almighty God through worship. They have heard His promise and its simple … walk first … sing the song … worship Me … I will protect you and you will win. No harm will come to you.
And they do just that. They go out with their song, and belt out the words, "Give thanks to the Lord for He is good, for His mercy endureth forever."
When we put God first in everything, when we have attitudes that are prayerful, worshipful, and grateful, there is POWER to defeat the enemy.
With a grateful heart,
Happy Thanksgiving,
Kathy